Field Trip Programming 
Students visiting Learning Tree Farm will enjoy exploring our barns, garden, wooded trails, and Century House in a hands-on and interactive way. Visitors will have the opportunity to engage in STEAM learning by:
Visiting with our sheep, pigs, ponies, goats, cows, ducks, chickens, and more

Seeing what is growing in our teaching garden and sample a variety of vegetables, fruits, and herbs

Hiking in our woods and fields; take a special trip to the tire swing and observation deck

Visiting the Century House – an 1800's era farmhouse

Play on the tractors in our outdoor play area as well as climb, balance and explore our newly expanded nature playscape.

Bring a lunch or snack to enjoy in our covered picnic shelter
Cost: $8 per student and per chaperone. Teacher admission is always complimentary!
Programs are held rain or shine. Make sure students have dressed appropriately for the weather and outdoor activities.
Cancellations must be made 14 days in advance of the scheduled program or you may be responsible for 25% of your field trip cost. If possible, your visit may be rescheduled for another date. 
Summer Cancellation policy: Cancellations must be made at least 14 days in advance or you will lose your deposit.  If possible, deposits may be transferred to another date.
If we cancel your program due to severe weather, we will attempt to reschedule a date convenient to both parties at no additional cost.
CLICK ON ANY OF THE FIELD TRIPS BELOW TO REQUEST YOUR DATE

Spring on the Farm
Education Staff Guided 
DEVELOPED FOR PREK – FIFTH GRADE
What new animals are at Learning Tree Farm this year? Spring on the farm is a great opportunity to bring your students for a day to a beautiful outdoor classroom. Our friendly livestock will be ready for visitors, including lambs, kids, chicks, piglets, and more!   Our tasting garden is designed to have fresh vegetables ready to taste, touch, and smell in every season and spring brings us lettuce, spinach, peas, and other delicious cold-weather crops.
 Students will learn about the life cycle of a plant and will get to plant a flower of their own to take home. Emphasis is on the growth of plants and animals as we kick off a new season at the farm!
Cost: $8 per student and for chaperones.

Teacher admission is always complimentary!

Summer Farm Adventures
Education Staff Guided 
DEVELED FOR PRE-K TO FIFTH
MIXED SCHOOL-AGED IS PERMISSABLE
Summer brings warmer weather, fresh vegetables in the garden, and extra time to enjoy all that the farm has to offer!  In addition to our popular hands-on stations, children will run a farm-themed obstacle course and create a summertime craft to take home.
Cost: $8 per student and for chaperones.
Deposits are $60 per group. Any remaining balance must be paid on the day of the visit.
Teacher admission is always complimentary!

Education Staff Guided
 DEVELOPED FOR PREK – FIFTH GRADE
Fall means pumpkins, cooler weather, and an opportunity to see the farm as we prepare for winter. Students will play our popular Pumpkin Scramble Game and choose a pumpkin to take home. Gross motor skills are emphasized as children jump over hay bales, swing on ropes, take a turn on the tire swing and run across our 10-acre hayfield. 
As with all our field trip programs, hands-on activities are emphasized throughout your visit as you meet our calm, friendly livestock, taste, touch, and smell the fall vegetables and herbs and hike our wooded trail. (There is a tire swing in the woods that is a popular destination!)
Cost: $8 per student and for chaperones.
Teacher admission is always complimentary!

Live the history of Ohio during the 1800s! 
DEVELOPED FOR THIRD-FIFTH GRADE
Hands-on activities throughout the day will give the students a sense of farm life for Ohio pioneers as they work with our staff at multiple stations. Students will use authentic 19th-century tools, including corn shellers, wheat grinders, and washtubs. They will also discover Ohio's Native American influence through the story of "The Three Sisters", grinding corn, and hiking through the woods to find Indian symbols. As a special treat, students will make their own butter!
As with all staff-led field trips, we will visit with our calm, friendly livestock as we discuss their importance to the survival of the pioneers and their importance in our lives today. We will also taste, touch, and smell the vegetables in our gardens as we again compare the gardens of the 1800s with gardens today.
Cost: $8 per student and for chaperones.
Teacher admission is always complimentary!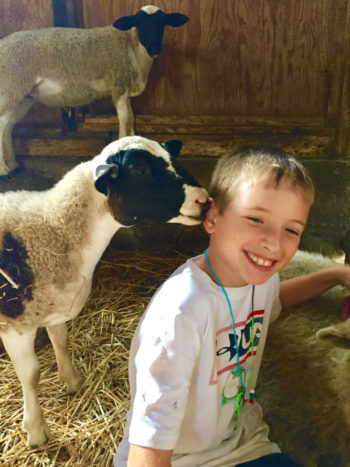 DEVELOPED FOR SECOND – FIFTH GRADE
CAN ACCOMODATE K-FIRST GRADE WITH ADJUSTMENTS
Come visit the Learning Tree Farm where stories really come to life! Whether it's your book club, homeroom class, grade level or an all-school-read, see the farm as you never have before, through the eyes and ideas of some of your favorite stories. This field trip experience will provide a unique look at the characters and themes of your chosen title while visiting all of our favorite farm spots along the way. We are always looking for new Stories Alive titles to add to our library, so please reach out to us if you have an idea for a book that isn't listed below but would really come "alive" on the farm!
Stories Alive Library Titles Ready to Choose From…
Charlotte's Web, BY: E.B. White
COMING SPRING 2022 Marty McGuire Digs Worms, BY: Kate Messner
COMING FALL 2022 The Birchbark House, BY:Louise Erdrich
Would you like the Farm to come to you?
Visit the LTF Comes to You page for more information!